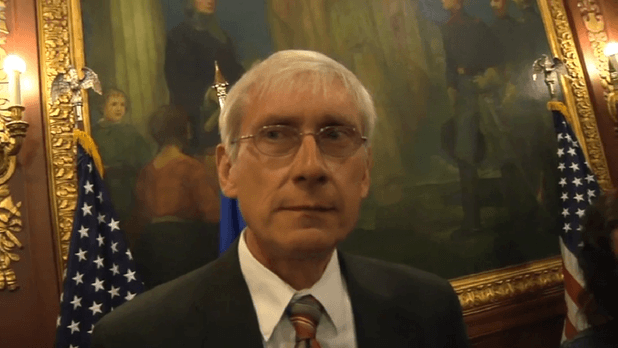 Evers said he would "consider" mandatory government buybacks of firearms  
September 19, 2019
[Madison, WI] – Earlier this morning, Democrat Gov. Tony Evers admitted he's open to proposals that would forcibly confiscate guns from law-abiding citizens – often referred to as "mandatory gun buybacks." 
"The so-called 'mandatory gun buyback' is nothing more than the confiscation of firearms out of the hands of law abiding citizens," said Mark Jefferson, Executive Director of the Republican Party of Wisconsin. "Using our own taxpayer dollars to force the 'purchase' of our firearms is simply unconstitutional. Owners would not have an option to negotiate price and the government would seize our firearms regardless if we want to sell. Gov. Tony Evers and Democrats have made it clear that they do not respect our Constitutional right to bear arms."
Read the full write-up here or find excerpts below.
Gov. Tony Evers announces red-flag bill, says he's open to mandatory gun buybacks
Milwaukee Journal Sentinel
Patrick Marley
September 19, 2019
Gov. Tony Evers rolled out red-flag legislation Thursday and said he would consider requiring gun owners to sell off some of their weapons.   
Republicans who control the Legislature immediately rejected both ideas, much as they resisted an earlier proposal from Evers for expanded background checks. The red-flag legislation Evers touted Thursday would allow judges to take guns away from people who are deemed to be a danger.
…
Responding to a question at the news conference, Evers said he was open to a proposal by Democratic presidential candidate Beto O'Rourke that would require people to sell their military-style weapons. But Evers said he was putting his attention on expanded background checks and red-flag legislation — ideas that polling has shown are overwhelmingly popular with the public.
"I'd consider (mandatory gun buybacks), but my focus is on these two bills and on the two offices that would be able to prevent it from going to hearing and to a vote," Evers said, referring to the Legislature's GOP leaders.
Assembly Speaker Robin Vos of Rochester and Senate Majority Leader Scott Fitzgerald of Juneau have rejected Evers' past ideas on guns.
In a joint statement Thursday, they said his red-flag legislation "poses threats to due process and the Second Amendment rights of law-abiding citizens." They called mandatory gun buybacks unacceptable.  
"With Governor Evers considering confiscating firearms from law-abiding citizens, it shows just how radical Democrats have become," they said in their statement.
Read the full write-up here.