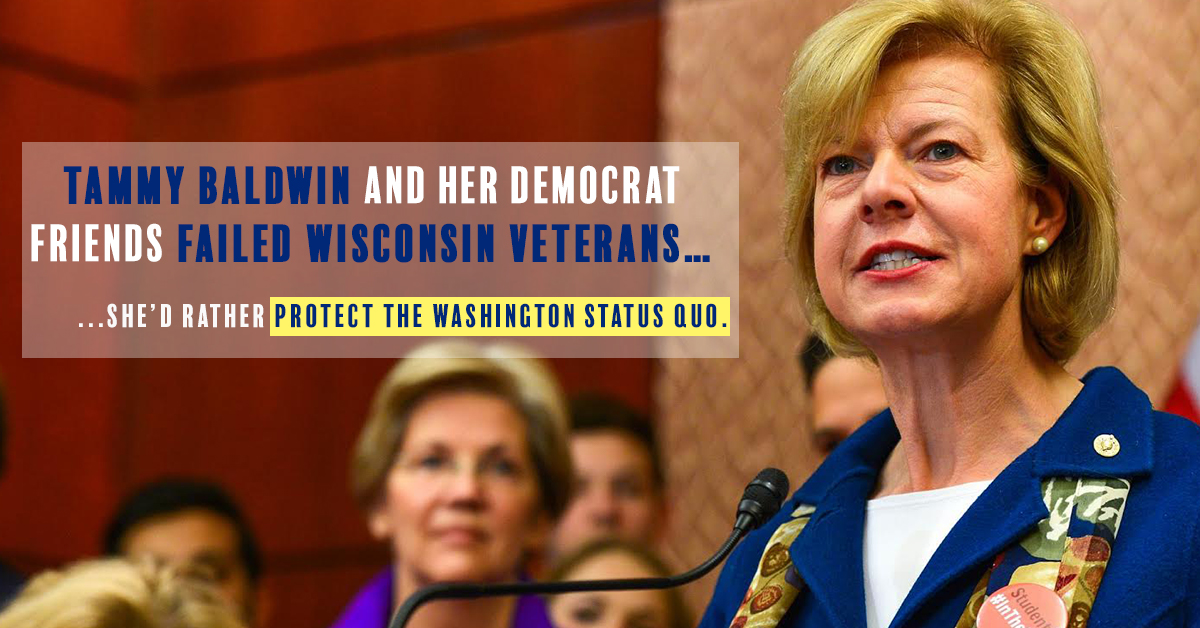 March 20, 2017
[Madison, WI]— Senator Tammy Baldwin is on the run again from controversy surrounding her scandal at the Tomah VA. After failing to act when Wisconsin veterans were in danger, Senator Baldwin was still paying the firm of Hillary Clinton's high-powered scandal attorney through 2016 – who she hired to help with her cover-up.  Additionally, the original Tomah whistleblower is calling out Senator Baldwin for dodging accountability and fleeing her scandal.
Check out what they're saying about Senator Tammy Baldwin's scandal at the Tomah VA:
From the Capital Times:  The dust has hardly settled on Sen. Ron Johnson's defense of his seat over former Sen. Russ Feingold, but the Republican effort to unseat Democratic Sen. Tammy Baldwin has already begun. The Republican Party of Wisconsin last Wednesday launched its first digital ad of the 2018 campaign, targeting Baldwin for her involvement in the Tomah VA Medical Center scandal. The ad campaign accuses her of engaging in a "cover-up," and was followed by a press release listing a timeline of the issues at Tomah. Baldwin drew scrutiny in 2015 after reports indicated her office responded slowly to complaints patients at the Tomah VA had been prescribed large amounts of opiate medications.
From the Wisconsin State Journal:  A whistleblower at the embattled Tomah VA Medical Center emerged in last year's campaign as a blistering voice faulting former Sen. Russ Feingold's oversight of the center, where failures in care for veterans was found to have contributed to their deaths.  Now Ryan Honl says he's gunning for another Democratic politician he feels failed to respond to red flags at Tomah: U.S. Sen. Tammy Baldwin of Madison, who's seeking re-election next fall.
From The Hill:  Baldwin came under fire when reports emerged in 2015 that her office received an inspection report about the VA, but that her office waited to call for an investigation months after. A former Tomah VA employee reportedly contacted by email to address the situation when he found out she had a copy of the report and hadn't taken action.  Baldwin conceded that her office could have done more, and she fired one of her top staffers. The ex-staffer filed an ethics complaint against Baldwin and accused her of a political coverup.
From Politico Morning Score: The Republican Party of Wisconsin's first digital buy of the 2018 cycle hits Democratic Sen. Tammy Baldwin over a thorny issue from the state's 2016 Senate race: the Veterans Affairs center in Tomah. The ads from the state GOP, which will be promoted on Facebook and Twitter and other digital platforms, say that Baldwin "failed Wisconsin veterans" regarding an inspector general's report on problems at the facility.
From the National Journal: Wis­con­sin Re­pub­lic­ans this week will launch their first sus­tained at­tack against Bald­win on the is­sue of the Vet­er­ans Af­fairs Med­ic­al Cen­ter in Tomah, Wis­con­sin, ac­cus­ing her of fail­ing to ad­dress prob­lems at the fa­cil­ity. The ef­fort in­cludes di­git­al ads blast­ing the sen­at­or and Demo­crats, a sur­rog­ate cam­paign with elec­ted of­fi­cials in the state who are vet­er­ans, and a co­ordin­ated push of let­ters to the ed­it­or, ac­cord­ing to a Re­pub­lic­an fa­mil­i­ar with the plans.
From The Washington Free Beacon: Baldwin, who was first elected to the Senate in 2012, was the only member of Congress from Wisconsin to receive an official federal government inspector general report warning of the over-prescription of narcotics given to veterans at the Tomah VA facility in her state. The abuses at the facility ultimately led to the death of a Marine.
From Wisconsin Watchdog:  U.S. Sen. Tammy Baldwin's campaign spent nearly $140,000 on legal advice from one of the left's major "political fixers" since 2011, according to federal documents obtained by Wisconsin Watchdog. The brunt of those legal fees – nearly $90,000 – were paid out in 2015, when the Madison Democrat was embroiled in a scandal involving the scandal-plagued Tomah Veterans Affairs Medical Center.
From Media Trackers:  If Elias continues to be retained by the Baldwin campaign, it could be a sign that Baldwin believes the Tomah scandal will continue to haunt her through the 2018 election. The RPW this week launched its first digital ad addressing Baldwin's role in the scandal.