July 6, 2018
[Madison, WI] — Republican volunteers were joined by Governor Scott Walker, Lt. Governor Rebecca Kleefisch, Attorney General Brad Schimel, and other Republican leaders at parades and Independence Day events across Wisconsin on Wednesday, as Republicans continue to organize for the November elections.
Check out the wrap up from Wisconsin Republicans 4thof July organizing efforts:
From TMJ4 on Walker at the Wauwatosa Parade: "[It's all about] community and fun things like this," Governor Walker said. "We raised our kids here [because] part of what we loved was [the] great schools, great community sense, a lot of folks coming together."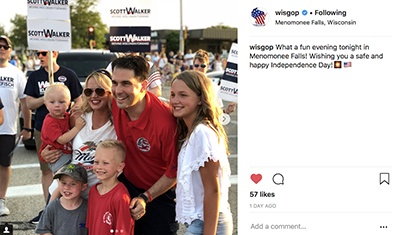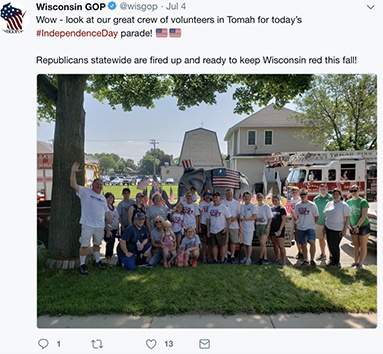 From Fox6 on Walker at the Franklin Parade: Governor Scott Walker took part in several parades, including those in Wauwatosa, where he lives, and Franklin. Franklin's parade included fire trucks, police cars, classic cars, tractors and more.