Far-Left Groups See Zunker As an Ally Who Will Push Their Radical Agenda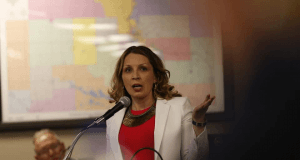 April 30, 2020
[Madison, WI] – Not only is Tricia Zunker a member of and tied to several radical liberal groups, she is now receiving their backing in her run for U.S. Congress. As the old adage goes, "a person is known by the company they keep," and in this case, Tricia Zunker has done everything possible to tie herself to the far-left.
Planned Parenthood: Tricia Zunker received the backing of Planned Parenthood because she is connected to groups that support late-term abortion. Tricia Zunker proudly touts Planned Parenthood's endorsement.
Emily's List: Emily's List is a dark-money PAC that aims to elect pro-abortion female Democrats to office. Naturally, they threw their backing behind Tricia Zunker's run for congress.  Emily's List is one of the supposedly "pro-women" groups that aimed to block Justice Brett Kavanaugh's nomination to the United States Supreme Court on unsubstantiated allegations of sexual assault. Now, they refuse to apply the same standard to the sexual assault allegations from Tara Reade against Joe Biden. 
Citizen Action: Tricia Zunker isn't just receiving financial backing from Citizen's Action, Zunker is also a member of Citizen Action of Wisconsin's North Central organizing co-op. Citizen Action supports several radical policies like providing taxpayer-funded healthcare for illegal immigrants and efforts to make private health insurance illegal.
Elizabeth Warren: Ultra-liberal and failed Democratic Presidential candidate Elizabeth Warren threw her support behind Tricia Zunker's race for Congress. We shouldn't forget that Elizabeth Warren supports radical policies like the healthcare plan that would make private health insurance illegal and costly "free" college for all plan. 
WI AFL-CIO: Wisconsin AFL-CIO put their big-union stamp of approval on Tricia Zunker's campaign for congress. 
Moms Demand Action/Everytown: Tricia Zunker was one of the founding members of her local chapter of an anti-gun group, Moms Demand Action. Zunker even supports banning certain kinds of firearms. Moms Demand Action is a subsidiary of Everytown, the anti-gun group bankrolled by failed presidential candidate and billionaire Mike Bloomberg. In response to the COVID-19 pandemic, Everytown claims that governors should feel confident banning gun sales in the midst of shutdowns. 
ACLU of Wisconsin: Tricia Zunker sits on the board of directors for ACLU of Wisconsin. ACLU of Wisconsin just unsuccessfully tried to free inmates from prison in response to the COVID-19 pandemic. The case was filed on behalf of two inmates who are not in prison for petty crimes. One of them shot a woman in the head while trying to steal her car and the other is in prison for his 5/6th OWI charge. In places like New York, letting some inmates out of prison had disastrous consequences. 
###